For the tenth year in a row, ORPALIS wins ComponentSource Top Publisher and GdPicture.NET Top Product awards.
Muret, France, March 7th, 2018.
ORPALIS and GdPicture.NET Awards for 2019
ORPALIS is pleased to receive several ComponentSource awards for 2019.
The company wins the Top 25 Publishers award, and the GdPicture.NET Document Imaging SDK series wins both the Top 50 Products award with its Ultimate Edition and the Top 100 Products for its Document Imaging SDK Edition.
It's the tenth year in a row that ORPALIS and its flagship SDK win ComponentSource awards, ever since it joined the software superstore for developers and IT professionals. GdPicture.NET has evolved tremendously over the years, from an Image SDK to a fully-featured library for document imaging, image processing, and document management.
GdPicture.NET covers all steps of the electronic document lifecycle, from acquisition to storage. The toolkit allows developers to build custom solutions for WinForms, WPF, and Web applications thanks to more than 3,000 features available.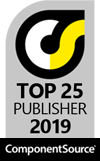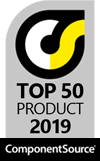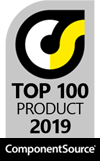 A Successful Development Process
ORPALIS builds its products and solutions following the continuous integration and delivery model, which implies a constant effort on research and development. The goal is to provide new functionalities to the users as soon as they are developed.
This past year, the company focused on improving its viewer, barcode, hyper-compression (MRC), OCR, and PDF engines. Speed, quality, and accuracy of these engines are challenged continuously thanks to the hundreds of thousands of files processed by the company.
GdPicture.NET is developed in-house, and ORPALIS owns the full intellectual property of its algorithms. "Not depending on third-party components makes our SDK reliable and easy to adapt to our customers' needs," explains Loïc Carrère, the ORPALIS CEO and creator of GdPicture.NET, "and our competencies are vast, allowing us to cover the full lifecycle of an electronic document."
About the ComponentSource Awards
Each year ComponentSource presents its Top 100 bestselling publishers and products with awards. These awards are based on the total USD value of sales to customers worldwide and represent a real-world view of the products that are in demand and currently being bought by global customers. As such, they probably represent the best software component and development tool market size and research information available on a global basis.
About ORPALIS
ORPALIS is specialized in automating large-scale document-based processes, providing document imaging and document-management toolkits as well as software tools for the general public. ORPALIS is the creator, developer, and owner of the comprehensive document imaging toolkit series released under the brand « GdPicture, » now a worldwide known and respected leader in the imaging technologies industry. More than 13,000 developers based in over 70 countries have included GdPicture components in their applications. In 2011 ORPALIS releases PaperScan, marking the beginning of a new line of products meant for end-users. PDF Reducer is launched in 2013. In 2015 a most powerful universal HTML5 viewer and document management kit called DocuVieware is made available to the public. The same year, a software tool for converting scanned documents to the searchable PDF/OCR format, the ORPALIS PDF OCR, is launched. In 2016 DocuVieware Lite Free HTML5 Document Viewer is released. PassportPDF, released in 2018, is a modern cloud infrastructure offering freemium microservices dedicated to addressing document management challenges of professional and general public users.
www.orpalis.com / www.gdpicture.com / www.docuvieware.com
Contact