First of all the ORPALIS Team wishes you all the best for 2013!
Did you take any resolution for the New Year?
At ORPALIS we prepared a little list to start the year off right…
Resolution 1
Download our latest software for the general public: ORPALIS PDF Reducer
ORPALIS PDF Reducer is a powerful PDF compression Software for end users and developers meant to help anyone to get existing PDF files reduced up to 80% more than concurrent products.
The Free Edition is now available for Windows with the following features:
Content segmentation and optimal compression
Automatic color detection and layout analysis
Embedded raster images re-sampling and re-composition
Fast web view support (linearization)
Remove unwanted or unused objects such as annotations, formfields, bookmarks…
Unlimited batch processing (with nag-screen every 5 files)
Drag 'n Drop support
The interface is really intuitive and currently available in three languages: English, French and Romanian.
You can find a short video which works as a tutorial on the website www.findmysoft.com at the PDF Reducer page.
Tell us what you think about PDF Reducer on its dedicated section of the ORPALIS forum !

Resolution 2
Go to the ORPALIS Facebook page.
We have a special application waiting for you: the PaperScan 2013 Giveaway Sweepstake app.
For 2013 we decided to give a gift to our Facebook fans: each week, starting now until the end of December 2013, anyone can win a PaperScan Home Edition license!
To participate, just click on the app and follow the steps.
The app is located on the top right of the page, next to the number of fans, here.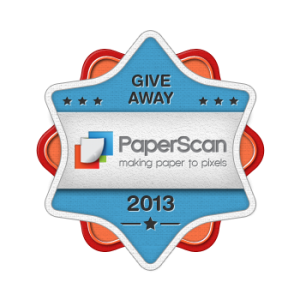 Resolution 3
Keep in touch!
Connect with us on Facebook of course, but also on Twitter, Google + and via our RSS feed
This way you will be the first to know about our latest events, releases and promotions!
Resolution 4
Take care!
Cheers!
The ORPALIS Team