Hi Everyone,
We have worked a lot lately on improving PaperScan with new features, and today we're going to present them to you along with the latest news.
Electronic signature
You can now sign your documents safely and securely with PaperScan, thanks to the importation of a digital certificate.
What is a digital certificate?
"A digital signature certificate (DSC) contains information about the user's name, pin code, country, email address, date of issuance of the certificate, and name of the certifying authority. It also makes it possible to prove that the document has not been modified since the signature. The digital certificate is an electronic file, as well as a private key allowing cryptographic signature operations. Only a Certification Authority, whose role is to verify the identity and make the link between the private signature key and the identity of the signatory, can issue a certificate."
You can learn more about the digital signing process on AvePDF, our web application for PDF and document management.
How to use the PaperScan signing features (for the Pro edition):
Scan or import a document (it doesn't need to be a PDF).
Click the Sign icon on the menu. You can then draw a placeholder for your signature anywhere in the document.
Select a certificate and enter your password.
Enter your name and optional fields like signing reason, location or address, contact information (phone, email). The signature placeholder is filled with your signing information.
Move or resize your signature before saving if needed.
Save your document as a PDF or PDF OCR file. The file now shows your signature.
You can also send your signed document as an Outlook attachment through the new Mail option (see below). Et voilà!
Next on our roadmap: a module to draw or import an image of your signature; collaborative features to ease workflows between several users.
Send as email
If you're using Outlook, you can now directly save your document and send it as an email with a convenient all-in-one mail wizard. Just click on the mail icon in the general menu to open it.
You will find the same parameters and advanced options as in the saving wizard.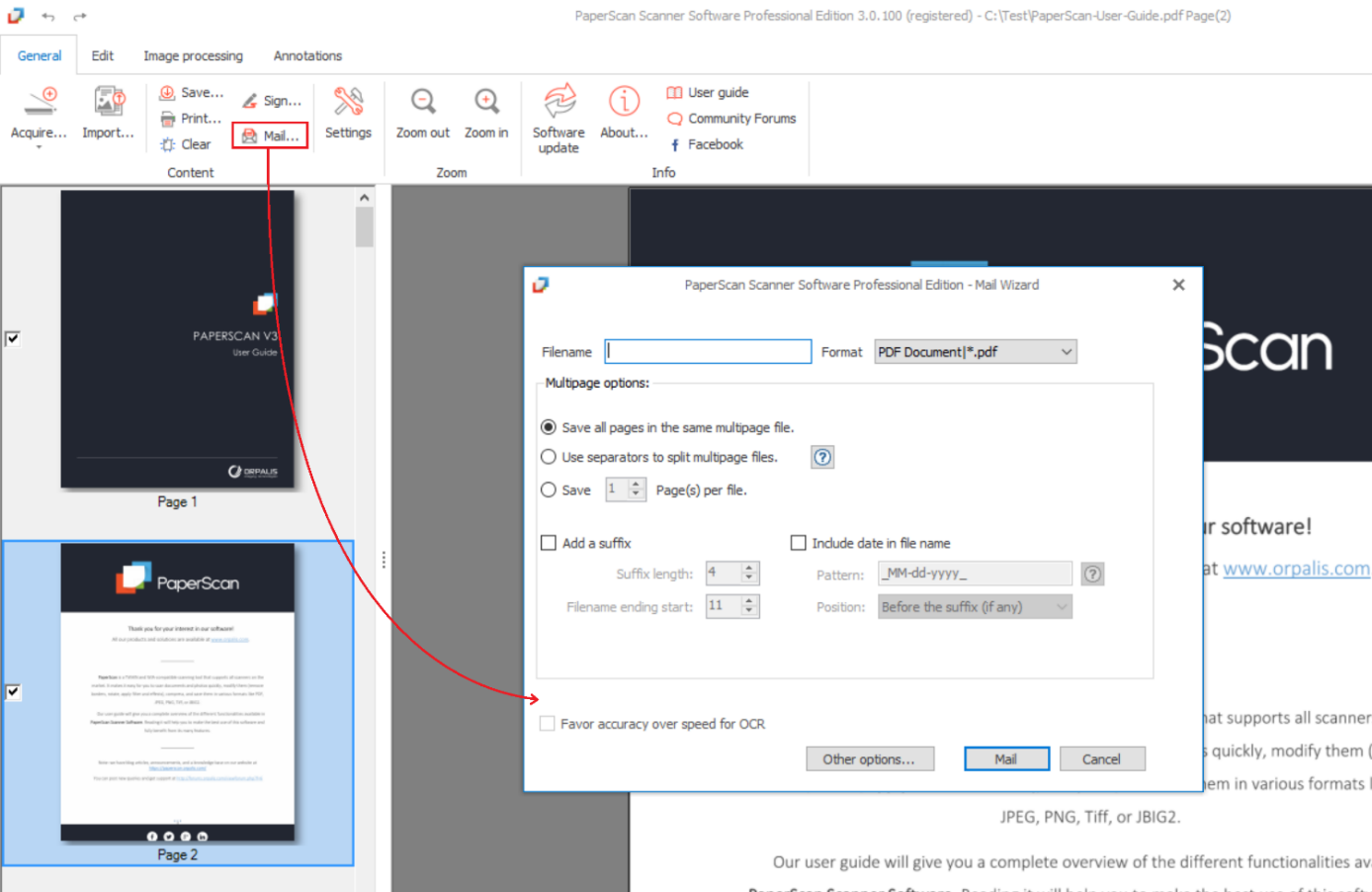 Next on our roadmap: integrate additional email clients.
PaperScan in the news
We cannot resist sharing with you the latest PaperScan reviews:
Many thanks to the authors for considering our solution!
PaperScan Pro free for one more month!
The digital signature and send as email options are available in the Pro edition.
You can still benefit from the Pro version for free for a few more days, as we've extended our special offer.
Stay safe!
Elodie